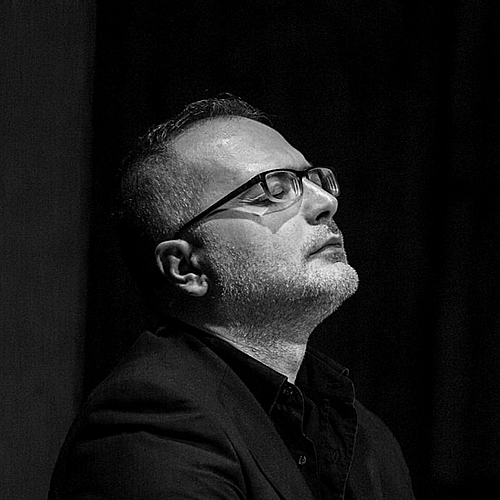 Pianist, composer, author, accordionist, professor, Virginio Aiello boasts a senior education in classical music, which dates back to his very first studies in accordion and piano when he was only 6 years old. It all turned into a strong passion for extemporized music. He first graduated in Piano and Jazz Music at the "S. Giacomantonio" Conservatory in Cosenza and then he took the MA Degree in Jazz Composition. He won many competitions including the first prize at the piano competition "Città di Castellaneta" and the second prize in the piano competitions "AMA Calabria" and "Città di Terzo".

He joined different seminars and workshops with Roberto Spadoni, Pietro Condorelli, Tino Tracanna, Riccardo Fassi, Ettore Fioravanti, Attilio Zanchi, Nicola Pisani, Stefano Battaglia, Franco D'Andrea, Enrico Pieranunzi, Nino De Rose, Marcello Piras, Stefano Zenni. He has performed with many jazz musicians in Italy for more than 20 years and he has been working on musical projects such as "Birdland Duo" - "Louisiana Dixieland Band" - "Calabria Logos" - "Quartetto Saudade" - "Sertango Quartet" - "Or che Strana" - "Midnight Jazz Quartet" - "Radici Quartet" - "Big Band del Conservatorio di Cosenza" - "Ellington Jazz Combo" - "Tango Extremo Quartet" - "Piazzolla Project Quintet" - "Virginio Aiello Jazz Trio".

He performed in many festivals such as Roccella Jazz, Divino Jazz, Ravello Concert Society, Festival Delle Serre, Tabularasa Festival, Settembre Rendese, Festival Delle Invasioni, Catanzaro Jazz Fest, Festival Leoncavallo and many others.

In 2015 he released "El Barrio" with the Sertango Quartet, a recording made of original classical "Tango Nuevo" tracks, which achieved a great feedback both from audience and critics and that was even mentioned by the periodical "Musica Jazz" as one of the best recordings of 2015. In 2019 he released "Piano Songs For Children", an album of original piano pieces dedicated to children; also he released a series of singles for piano that have met with great public approval.

He currently is a Piano Teacher at Secondary School. He published the following books: "Il Pianista Accompagnatore Pop/Jazz - Vol. 1/2"; "Metodo Pratico Di Pianoforte Jazz Complementare"; "Piano Works Vol. 1"; "Tecnica Moderna Per Pianoforte Pop/Jazz"; "55 Pezzi Facilissimi Per Pianoforte a 2, 3 e 4 mani"; "Il Pianista Moderno"; "33 Pezzi Facili Per Pianoforte"; "Metodo Completo Di Fisarmonica Moderna"; "Tecnica Moderna Per Fisarmonica".